Click the link below for the lastest Newsletter in PDF Format
Wightlink Wightmountain Time Trial – Chessell 20k
Wightlink Wightmountain Time Trial gets the IOW triathletes out racing again….
Five of our amazing young triathletes (Millie, Lottie-Rose, Kaitlin, Billy and Gethin) decided to join the cyclists and enter the Wightlink Wightmountain Time Trial Series on Sunday 18 April 2021.
Great conditions for an extremely hilly 20km course over the West Wight didn't deter these youngsters, who all finished safely with some extremely respectable times, gaining a few trophies amongst them. This gave them really good experience racing alongside the Island's cycling teams and they are looking forward to the next one in May. Great racing experience ahead of the triathlon season.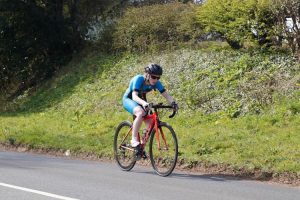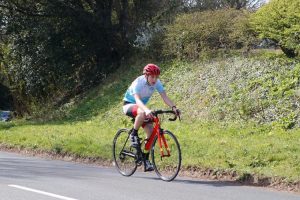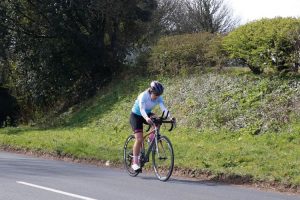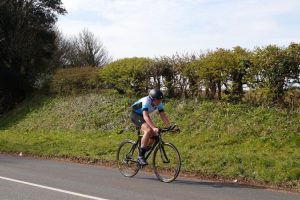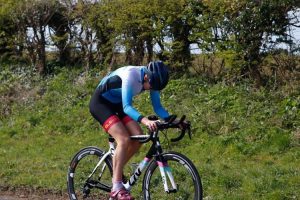 Bath Duathlon 31st October
Jasper took part in the Tristar 1 race, with a slightly different format to normal so that the event was covid secure. He took on a 1.5km run and a 4.5km cycle around a fabulous cycle track. He battled through Storm Aiden with driving rain and gale force winds to put in a brilliant effort and warmed up afterwards with lots of hot chocolate!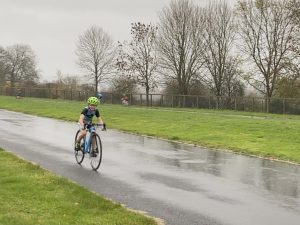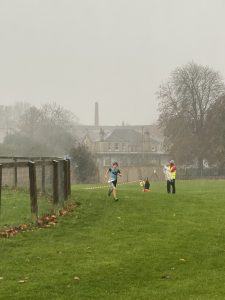 Hever Castle Triathlon 26th and 27th September 2020
It was hard to believe that we were at the end of the triathlon season and yet this was our first big club outing of 2020! We were so grateful for so many of us to have the opportunity to race at Hever given everything that 2020 has thrown at us. It was slightly different to the norm because of all the social distancing measures in place but we still managed to have a fabulous (if a little chilly!) weekend camping.
Day 1 at Hever Castle Triathlon started early with an adult sprint triathlon for Lottie (15), Thomas (16), Millie (18) and Ali (age not to be revealed). The lake swim was a very chilly 13 degrees and they all performed brilliantly and did the club proud with their results. You don't need to scroll too far down the results to find three out of four of them!
In the afternoon, it was the turn of Jasper in the 9-10 year old race and Elsie and Emily in the 8 year olds race. We are SO SO proud that you jumped into that freezing cold lake and then went on to give the bike and run your absolute best. You are our little superstars. Special mention should go to Emily for coming 1st in her event.
First to go off the following day was coach Mark in the standard distance triathlon. After the little ones had shown what tough stuff they were made of by swimming in the freezing lake the day before, he had no choice but to jump straight in the water!!!! Our chairman Phil took on the tough standard duathlon. Well done to you guys.
In the afternoon it was the turn of more of our juniors, some of whom were taking on their very first triathlon. Gethin, Henry and Billy were first off in the 15-16 year old race. Special well done to just turned 15 Gethin for his podium place.  This was followed by James and Ben in the 13-14 year old race and finally Phoebe, Darcey, Katie and Martin in the 11-12 year olds race. Along with the feeezing water they also had to contend between them with a lost timing chip, a fallen off chain, a fall off the bike and struggling through the run with a painful injury which all demonstrate their amazing determination. You all did the club so proud.
What a brilliant bunch of  young athletes we have. It was a pleasure to watch you over the weekend.
We were very grateful for all the efforts Castle Triathlon Series put into this event and it felt good to be back racing again.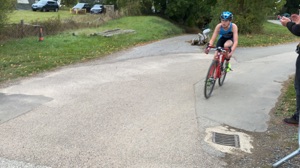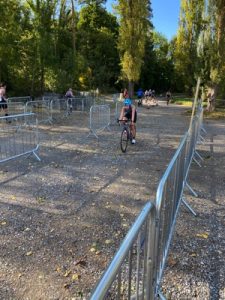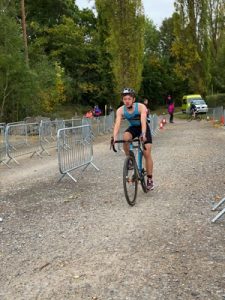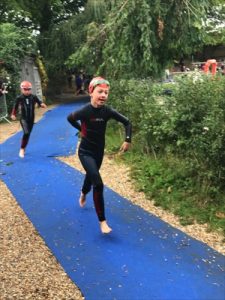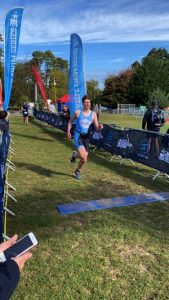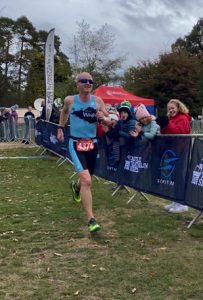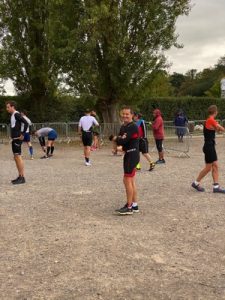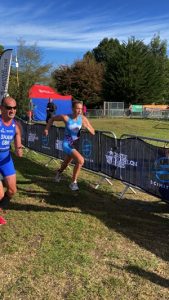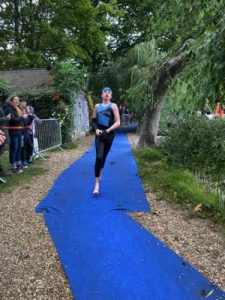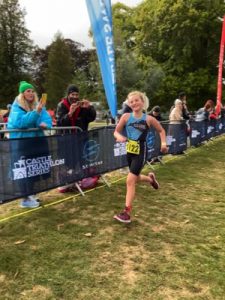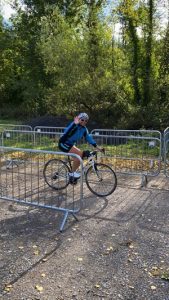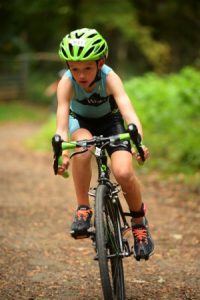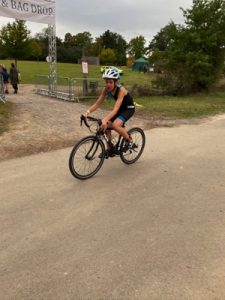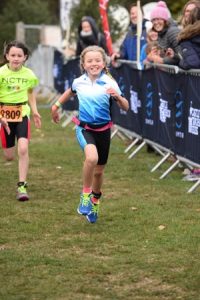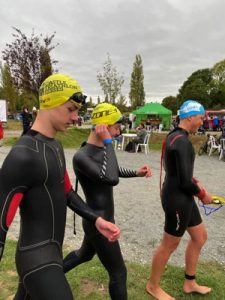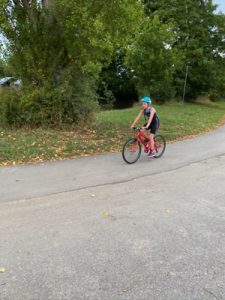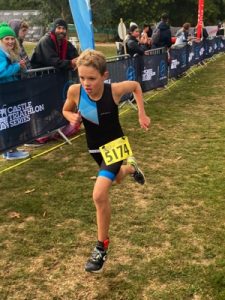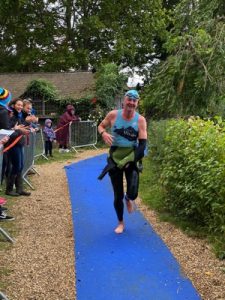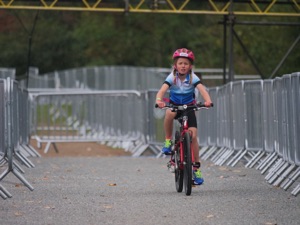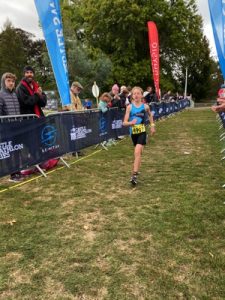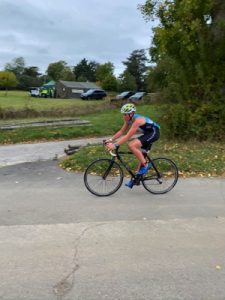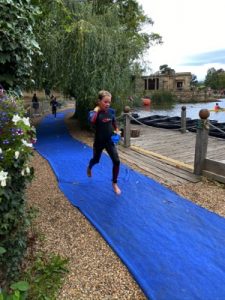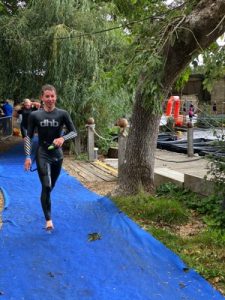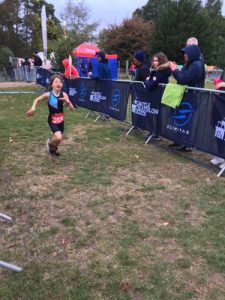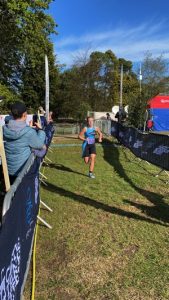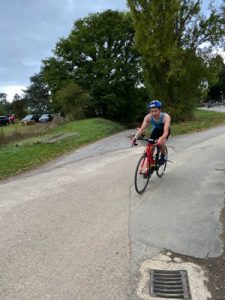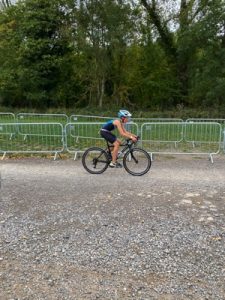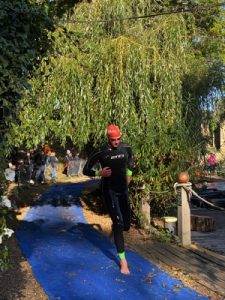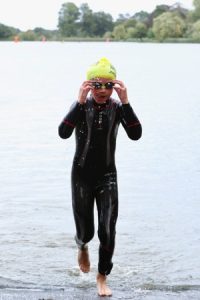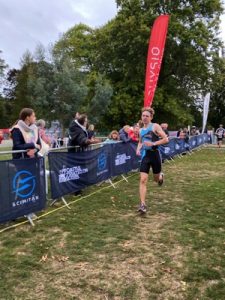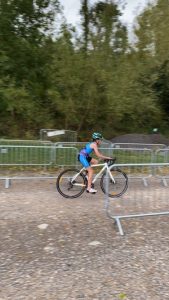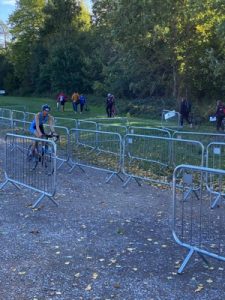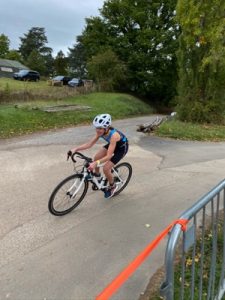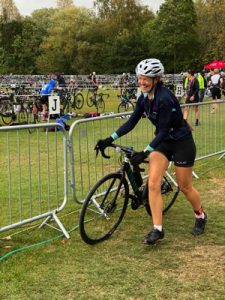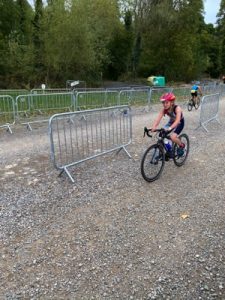 The Isle of Wight Triathlon Club finally returned to mainland competition with four of their youngest members travelling to the  on Bank Holiday Monday.  All of them took part in a 100m swim, 2km cycle and 1km run.  In the 10/11 age category Katie Bunn came 2nd female and Jasper Jenkinson 5th male.  Emily Bunn came 1st female in the 8/9 category with Elsie Jenkinson 7th.  All four of them really enjoyed the experience. Their coaches said "These were fabulous results after such a long time without competition and having only recently returned to training.  We are very proud of their efforts". The club are looking forward to more competition this month at Eastbourne Aquathlon and Hever Castle Triathlon.
Still lacking triathlon competition, 8 members of the club eligible to cycle in the local Island time trials watched the ominous stormy clouds whilst heading out to Wellow for another evening of TT fun… Great camaraderie as always between the 14-17yr olds with some impressive performances by all, despite many being on road bikes.
After supporting these youngsters from the side of the road last time, Coach Mark Jenkinson couldn't resist and joined them and two of their other coaches, Simon Pilcher and Darren Cole, on the course!
Great fun and extremely good training for future triathlon competitions.
July 2020 – First TT for the IOW Tri club
After months of lock down and insular training, some members of the IOW Triathlon Club decided to see what TT racing was all about.  Boldly led by two of the coaches, Darren Cole and Simon Pilcher the 14-18 year olds all cycled well against more seasoned cyclists on a TT held on the Isle of Wight, recording times under 30minutes for the 10mile time trial – shows what this lot spent lockdown doing!
Isle of Wight Triathlon Club – Covid-19 update
https://www.britishtriathlon.org/britain/documents/covid-19/guidance-documents/final-covid19-clubs-guidance-25.06.20.pdf
In accordance with BTF guidelines we have appointed Mark Jenkinson as our Covid-19 officer. He will be keeping up to date with latest legislation both from the government and the BTF and will make sure the club is compliant at all times. If anyone has any concerns about the Covid-19 and club activities, please contact Mark direct.
Return to training has started well after the return of all under 18's Covid-19 forms which I currently hold with membership forms.
Stay safe everyone,
Julie Van der Helstraete
Club Secretary
RNLI Dare to Brave it charity swim
On 22 December from The Little Gloster gave three of our triathletes the opportunity to done their wetsuits for the last time of 2019. Well needed bacon baps and hot chocolate were well deserved by Gethin, Lottie and Benjamin
Message from our Chair
Welcome to the first ever Isle of Wight Triathlon Club newsletter. We hope that you find it an interesting way to catch up on what our athletes have been achieving over the last few months, find out a few tips for the future and stay up to date with our training schedule. As more people discover what a great sport triathlon is, and how our coaches are delivering engaging and fun sessions, the club is getting increasingly popular. We have an extensive waiting list for people to join which is wonderful! However, we are limited by the number of coaches we have and the capacity of the pool on Sundays. It would be great to see that everyone attending swimming on Sundays are keen to do so as part of triathlon training – not necessarily to compete straight away but to build skills across all three disciplines. It is after all a triathlon club. If our athletes are only attending the swimming sessions then we are keen to understand why. With this in mind, a survey will be forwarded to all members asking them how the club can develop the running and cycling sessions to encourage greater participation and whether it is triathlon the member is interested in or just swimming. If we could encourage parents to ensure this is completed that would be great. We can use the feedback to develop our sessions further.
There is one event left this season (Bowood Duathlon 13th October) and of course training sessions will continue throughout winter. Finally, I would like to thank the coaches for their continued commitment and our brilliant young triathletes or their enthusiasm, dedication and hard work. Your smiles and friendships are what makes this club so special.
James Gradwell, Chair
EVENTS 2019
WOW! 2019 has been such a busy year for our athletes and the list opposite is all the events our members have between them competed at. The majority of these events take place on the mainland which require significant commitment and dedication from the juniors, youths and their
families. We love watching yourenthusiasm, talent and camaraderie when you are are out
representing the club and hearing about your successes. Well done to all of you. We encourage all of our athletes to put their hard work to good use in a competitive environment and we are happy to support anyone who might find this process daunting. Please feel free chat to one of our coaches.
• Ashridge Duathlon
• Portsmouth Duathlon Series
• Spring Duathlon at Goodwood
• Woking Aquathlon
• Wight Tri Spring Triathlon
• Hart Aquathlon
• Llanelli Sprint Triathlon
• Crystal Palace Triathlon
• Newchurch Nine Run
• Fareham Triathlon
• Trent Park Aquathlon
• Chapel Aquathlon
• Henley Open Water Triathlon
• Leeds Triathlon
• Horsham Triathlon
• Twyford Triathlon
• Bowood House Triathlon
• Club Aquathlon
• Chichester Triathlon
• Castle Howard Triathlon
• Dash and Splash 5k
• Billingshurst Triathlon
• Henley Kids Fun Triathlon
• Splash and Dash Kids Aquathlon
• British Elite Championships
• English Aquathlon Championships
• Hever Castle Triathlon
• Bowood House Duathlon
We have celebrated many success stories from these events. There have been podium places at lots of events, some juniors have competed for the very first time, others have taken part in the British Triathlon South Central Regional Series events, parents and younger siblings have competed. Notably, one of our older members has competed at some of the highest level events representing the club at the Sprint Distance Duathlon World Championships Qualifier, the British Elite Championships and the English Aquathlon Championships. What great representation for our island club and a great role model for our younger members.
MEET THE COACHES
Julie
Our level 2 coach Julie is a founding member of the club. An accomplished swimmer and swim coach,
Julie is passionate about helping our athletes fulfil their goals in all three disciplines of triathlons and encourage their love for sport.
Simon
Simon is a level 1 coach and comes to the club with a wealth of competitive experience, having competed at European level in duathlon.
Mark
Mark is also a level 1 coach and has been taking part in triathlons for nearly 20 years. He is committed to provided fun sessions and encouraging participation in events for all of our members.
COACHES WANTED!
We are on the look out for new coaches. This is a rewarding community volunteer role helping our junior athletes achieve their personal triathlon challenges. If you think this is something you can help with then do please get in touch.
COACHES TOP TIPS!
Transitions
You can never practice too much at transitions. Every second counts in a large field of athletes.
Running
It is good practice to go for a short jog after a cycle session. It doesn't have to be far but gets your legs used to working after the bike.
Assemble
Get all your kit together the night before a race. Preparation makes a huge difference instead of running round trying to find things.
Instruction
Always listen to the pre-race briefing. Get yourself as close as possible to the race officer so you can hear. Don't be afraid to ask questions.
Necessary
Please don't forget necessary items for training sessions. Goggles, fins and pull buoys for swimming. Helmets for cycle sessions. Water bottles for all sessions. Ensure any inhalers required are with you at all times.
FUNDRAISING
We hosted a fabulous Race Night earlier on this year which raised vital funds for the club. We have bought the swim secure tow floats which have been brilliant for our open water swim sessions. Money raised also enabled us to offer a skills day. We are grateful to our two sponsors, Beardsalls Print-Design-Sign (www.beardsalls.co/printing-services) and Tignes Apartment (www.tignesapartment.com) who contributed to the purchase of a fantastic club gazebo. We have been able to pitch this at events to provide invaluable shade/shelter and create a base and a presence for the club.
SKILLS DAY
The club welcomed Di Murray from Synergie Coaching to the island for a full day of triathlon coaching in the summer holiday. Our members on the day ranged from ages 7-16 and were kept busy with an open water sea swim session in the morning and then an afternoon spent working on cycle technique and running activities focused on teamwork. The day was finished off with a fun relay. Our athletes learnt a lot but most importantly had enormous fun together.